Posts: 45
Joined: Thu Aug 13, 2009 5:49 pm
Karma:

0
O.K. Lets try this again. Since this proof is a combo of two books the page numbering is BAZZIRE the page count goes to 698 and then back to 219.Now here is where the confusion comes in.On the page between the two stories the page reads (extra large print) STEPHEN KING (large print) TWO PAST MIDNIGHT (smaller print) Secret Window, Secret Garden (smaller print) (the second story from Four Past Midnight) So this is maybe why Some people think there are two different stories in this proof. MYSTERY SOLVED? Aint Collecting Fun
---
Posts: 468
Joined: Tue Mar 04, 2008 4:27 am
Karma:

10
I have one copy.

The rumour about a different story is not true and just a rumour.
---
Posts: 21
Joined: Fri Aug 27, 2010 1:48 am
Karma:

0
The collectors of Stephen King proofs in general and TWICE THE POWER in particular may be interested to know that Hodder printed the sheets and (blue wrappers) for a solo proof of the UK hardcover edition of FOUR PAST MIDNIGHT, but abandoned the project in favour of the TWICE THE POWER omnibus. To the best of my knowledge, only one flat, mint set of the unbound sheets of the solo FOUR PAST MIDNIGHT proof survives, complete with an immaculate, flat blue wrapper.
TWICE THE POWER was not inexpensive to manufacture and is, therefore, in correspondingly short supply. A dozen battered copies were given to booksellers at the 1991 UK Fantasy Con in London - which is almost certainly the portal through which they escaped into the wicked world of the collector - but pristine copies are and always were in very short supply.
The FOUR PAST MIDNIGHT solo proof sheets are almost certainly unique.

Speaking of unique proofs, King collectors seem to be unaware that one of the most precious King proofs is that of the first UK edition of THE GUNSLINGER (yes, DARK TOWER, volume 1) as, to the best of my knowledge, it is the ONLY Gunslinger proof, since Donald Grant did not issue one. Indeed, the UK can claim to have produced a number of unusual (and now quite rare) King items.





Top
---
Posts: 28
Joined: Mon Aug 23, 2010 5:26 am
Karma:

0

Location: Ramstein Air Base, Germany
Thanks for the great information Michael. Anyone know anything about the flat, unbound sheets set he talks about? And it would be great to be able to tie anyone's copies directly to the 1991 UK Fantasy Con; perhaps an insert from the event, or something along those lines.

Not to stray too far off topic, but in regards to the lone UK Gunslinger proof he mentions, Jhanic's Proofs list shows three all together:

Dark Tower I: The Gunslinger (Plume) orange cover
Dark Tower I: The Gunslinger (Plume) ARC Variant Cover does not mention any proof or ARC condition
(UK) Gunslinger tan cover Sphere extremely rare

I'm assuming the one Michael talks about is the Sphere edition, but would need more information to confirm.

George
---
Posts: 37
Joined: Sat Dec 26, 2009 3:07 am
Karma:

0
---
Posts: 28
Joined: Mon Aug 23, 2010 5:26 am
Karma:

0

Location: Ramstein Air Base, Germany
As of 11 PM on Friday 27 Aug 2010, here's our TWICE THE POWER Proof tally (from both here and TDT) so far; I'll try and update the total on a weekly basis. These are copies that are actually in collector's hands, not just rumor:
14 Proofs and 1 Unbound Proof
(awaiting verification of 2nd unbound proof before adding it here)
carlosdetweiller: 2 proofs
carlosdetweiller: 1 unbound proof of Four Past Midnight
Pasiuk57: 2 proofs
Hutch: 2 proofs
Fine Edition Books - 2 proofs (one on hold for ur2ndbiggestfan)
Mr Rabbit Trick - 1 proof
jhanic - 1 proof
Old Haven Books - 1 proof
shnnrc01 - 1 proof
George at Ramstein - 1 proof
needfulthings - 1 proof, with page numbering error (Page count goes to 698 and then back to 219. On the page between the two stories, the page reads (extra large print) STEPHEN KING (large print) TWO PAST MIDNIGHT (smaller print) Secret Window, Secret Garden (smaller print) (the second story from Four Past Midnight)
Nobody else has mentioned having the numbering error; if you do please let me know so we can identify whether it is unique or not. Something else occured to me yesterday; this tally will only encompass (as best I've seen so far) english speaking collectors. It would not incorporate copies from foreign collectors who don't frequent these two websites. If anyone has good contacts overseas who could start a similiar discussion on their boards, it would be a great addition to our knowledge base.
George
---
Posts: 45
Joined: Thu Aug 13, 2009 5:49 pm
Karma:

0
I did not say this was an error Just Bazzire. Because they took the Secret Window Secret Garden story out of Four Past Midnight and stuck it on the end of the Needful Things proof without changing the page count to match up with the Needful Things pages. Im sure all the Twice The Power proofs are like this. The back of the proof reads Needful Things The new hardcover Four Past Midnight The new Paperback Supported by a joint campaign that will reach more readers then ever before. THAT'S WHY IT'S CALLED TWICE THE POWER.
---
Posts: 21
Joined: Fri Aug 27, 2010 1:48 am
Karma:

0
I had forgotten about the Plume GUNSLINGER proofs. Shame on me.

I do have a set of the unbound Hodder proof sheets of FOUR PAST MIDNIGHT and I do have the Sphere GUNSLINGER proof, both immaculate. I was lucky to be very well acquainted with a delightful Hodder rep, at the time, and got hold of a lot of wonderful in-house and promotional material, like the terrific Hodder INSOMNIA t-shirts and pillow cases (or were the pillow cases for NIGHTMARES AND DREAMSCAPES? I must check) in addition to proofs. Best of all - though this may be of little interest to you - I have the pulped proof of the unpublished (and very different) version of a John Le Carre novel.

I was co-organiser of the 1991 UK Fantasy Con (with Di Wathen). This convention was previosuly held in Birmingham, UK, but was, exceptionally, moved to London that year.
Sadly, there is nothing that will link the TWICE THE POWER proof specifically to that convention, as the proof was launched long before the date of the convention. I had copies much, much earlier, if I remember correctly. The proof was given to the con as one of many items donated by Hodder and other publishers.
---
Moderator
Posts: 1355
Joined: Sun Mar 02, 2008 12:08 pm
Karma:

7

Location: Cleveland, Ohio
Don't forget the Viking proof of the Revised Gunslinger: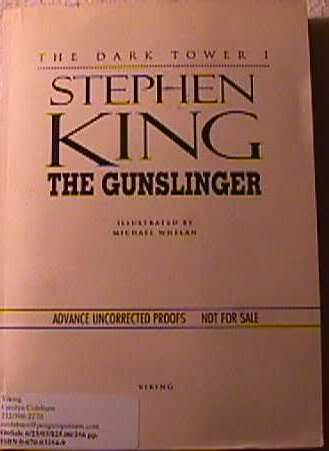 This one seems more scarce than the Plume proof.
John
---
Posts: 28
Joined: Mon Aug 23, 2010 5:26 am
Karma:

0

Location: Ramstein Air Base, Germany
---